At Brisbane Bargain Rent a Car, we are so much more than your average car rental company. Don't put up with poor customer service, shoddy cars or dodgy deals from other rental car Brisbane chains any longer. Choose a local, family run car rental company in Brisbane you can trust!
Our customers return to us time and time again thanks to our friendly and unbeatable customer service paired with our affordable prices! With reputable car brands and models available from just $21 dollars a day, there is no need to look anywhere else. Click on our rental vehicles below and grab a Bargain Rent a Car today!
Click on our rental vehicles below and grab a Bargain Rent a Car today!
Book your rental car in Brisbane today with Bargain Rent a Car for an unbeatable car hire experience
About our Vehicles
We have both new and second-hand vehicles to suit all budgets and needs from leading brands. If there is a particular brand or model of car you prefer, we have Toyota, Ford, Mitsubishi and Mazda vehicles available to hire.
Our vehicles also come in a range of sizes from compact cars and family sedans right up to wagons, people movers and Utes. Click the 'view more info' tab next to each vehicle image for a closer look at the car available to hire along with any other relevant information you require.

How to Book a Rental Car
It is so easy to book a rental car Brisbane wide with us at Bargain Rent a Car. As long as you hold a valid Australian or overseas driver's licence, you can book the vehicle of your choice from the menu above and follow the on-screen prompts to progress through the buying process quickly and easily.
Once you have entered your details, select the vehicle of your choice, add any extras you wish to include and click the book now button to confirm your booking. You also have the option to email the quote to your own email address to refer to at a later date.
Don't worry, we won't debit your credit card at the time of booking. Full payment for your rental car will only be made when you arrive to collect your vehicle. We accept cash, major credit cards, EFTPOS, direct deposit and traveller's cheques.
Picking up Your Rental Car – Brisbane
We make the process of picking up your rental car in Brisbane as fast and hassle free as possible. If you are arriving in Brisbane via Brisbane Airport, call us on 1800 807 812 to take advantage of our free shuttle service to transport you to your rental vehicle. Please note, if you require this pick-up service outside of regular business hours, a small fee of $33 will be charged.
You will be pleased to find there will be no long queues and lengthy paperwork to fill out here. We will sit down with you to help you fill in some short forms and accept payment for the vehicle before handing over the keys and showing you to the car personally.
If you have any questions or if you need some advice, whether it be directions to your location or suggestions for sites to see, we are more than happy to provide you with any information you need to make your stay in Brisbane as pleasant as possible.
Dropping Off Your Rental Car – Brisbane
When returning your rental car to us, please drop off the vehicle at the same location you picked the vehicle up from at 915 Nudgee Road, Banyo. Please also ensure the car is returned with the same amount of fuel in the tank.
Once you hand over the keys to us and if there are no issues after looking over your vehicle, you will be on your way! If you are flying out of Brisbane we will transport you back to the airport in our free shuttle.
You may also drop your vehicle off at Brisbane Airport instead, however, this must be pre-arranged with us and a fee will apply.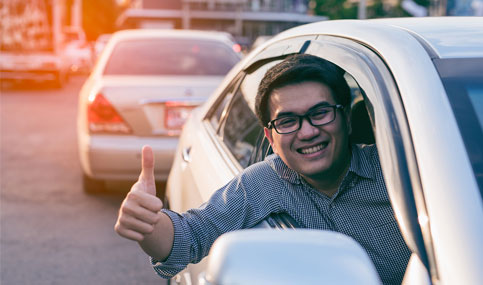 Extra Options
Enhance your car rental experience by adding some extras to your car hire purchase. If there are any extra options you would like to include with your rental vehicle, please make note of them at the time of booking.
GPS – If you are new to Brisbane and not sure how to get around, we highly recommend including a GPS with your rental car Brisbane purchase. It will only cost an extra $5 per day with the cost capped at $50 in total.
Baby and Booster Seats – We have baby and booster seats available for your little one that meet current Australian safety standards. Our booster seats will keep your children secure during your journey for only $4 per day – capped at $28 in total.
Soft Roof Racks – If you need to transport some items and the boot just won't do, consider including soft roof racks with your rental car. At $4 a day – capped at $40 in total, you would be crazy not to!
Ute Cargo Net – When hiring a Ute from us, if you have a lot of items to transport in the tray of your Ute, include a Ute cargo net in your rental booking to keep your items secure. Our Ute cargo net is available for $10 a day capped at $50 in total.
Hire a Car Today from Bargain Rent a Car
Book your rental car in Brisbane today with Bargain Rent a Car for an unbeatable car hire experience that will exceed your expectations. From booking and picking up your vehicle right through to returning your vehicle and transporting you back to the airport, we make the process of renting a car as easy and stress-free as possible.
If you are ready to grab a bargain rent a car with us, make a booking online or over the phone now or contact us if you have any questions about the rental car Brisbane booking process.